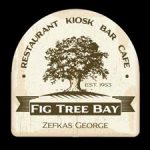 Welcome to Figtree Bay-Protaras
Figtree Bay Protaras – Three Words for the most of you, but for us-the Zefkas Family- a whole story full of emotional feelings.
Everything started back in 1953 as our Grandfather-Zannetos Zefkas- decided to start a Restaurant in a Place he named FIG TREE BAY.
Well, back in 1953 our Father was 8 Years old.
In 1960 my Father and Uncle took over the Fig Tree Bay Restaurant, because of the early death of our Grandfather Zannetos.
Through a lot of problems they managed to keep the Fig Tree Bay Restaurant going and developed it into a local family restaurant, with a really delicious menu, and most of the dishes being prepared by our mother-still to date!
In 2004 the old, original Fig Tree Bay Restaurant was demolished and two new Business's came out of this.
One of them (us) George Zefkas was about to start a new story and Restaurant as George Zefkas & Sons Restaurant.
With Zannetos welcoming the customers , Pieris (my brother in law) taking care of the take-away area, our mother controlling the kitchen (and good at it she is!), and our father preparing the drinks behind the bar we like to believe that we created a restaurant that treats people like family.
Marios (our Brother) is running Fig Tree Bay Watersports, just below us to the right on the beach.
Our satisfaction is when we see our customer coming back again and again with a smile on their face and full of happiness.
It's when we hear people saying: 'We will miss your Restaurant' or 'We cannot wait to come back', when we feel proud.
Our Priority is YOU-the Customer.Making you feel comfortable and happy for the time you are going to spend with us. Make new Friends. Make you have a reason to come back to Cyprus and Fig Tree Bay.
We offer a large variety of snacks, homemade dishes and ice cream. Refreshing Drinks and cocktails as well as mouthwatering desserts are a must, while you sit relaxing next to the beach.
Families with Children will find our kids area a pleasant and relaxing solution.
Souvenir and Beach Items Shop are also on the Premises.
---
Figtreebay Zefkas Family Restaurant is located overlooking the beautiful fig tree bay beach. You can enjoy all Cyprus traditional food whilst enjoying the best view of the beach and the famous Figtreebay Island